Overhead Line Cover (Insulcover)
Insulcover is a Medium Voltage Wrap Around Overhead Line Cover that provides retrofit insulation for overhead conductors to help prevent electrical outages caused by trees or wildlife coming into the contact with distribution lines.
It is manufactured from high quality Non Tracking Polyolefin material.
IInsulcover is designed to insulate existing bare lines without costly conductor replacement expenditure or additional line hardware. Insulcover may be applied selectively on problem spans when temperatures are above 0oC.
Installation is possible on energized lines utilizing the Split Insulation Tool which attaches directly to the overhead conductor and remains stationary ina single location.
FEATURES & BENEFITS: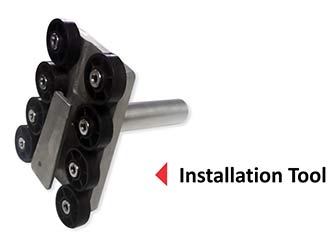 High dielectric strength.
Excellent UV stabilized & weather resistant.
Anti Tracking & Erosion resistant
Prevent Conductor from Chemical corrosion effected by strong acid, alkali, salt, etc..
Halogen free, Flame Retardant.
Insulcover is available in three sizes that covers conductors from 16 to 800 sq.mm.
Technical Qualification Report : QR 1020
Selection Chart
Gala Code
Conductor size (sq.mm.)
Packaging (Mtr./Roll)
Technical Specification
PROPERTIES
VALUE
TEST METHOD
Tensile Strength
10 N/mm2 (Mpa) (min.)
ASTM D638
Ultimate Elongation
400 % (min)
ASTM D638
Density
1.20 ± 0.2 gm/cm3
ASTM D792
Hardness
40 ±5 Shore D
ASTM D2240
Water absorption
0.5 % (max.)
ASTM D570
Accelerated ageing
(90oC for 7 Days)
ASTM D2671
a. Tensile Strength
±25% Variation
ASTM D638
b. Ultimate Elongation
±25% Variation
ASTM D638
Low Temperature Flexibility
No Cracking
ASTM D2671
Continuous Temperature Limit
-45 to +105oC
IEC 216
Dielectric Strength
20 KV/mm.(min)
ASTM D149
Volume Resistivity
1 x 1014 Ohm.cm (min)
ASTM D257
Dielectric constant
5 (max.)
ASTM D150
Resistant to track & erosion
No Tracking, erosion or ASTM flame failure up to 3.25 KV for 20 min.
ASTM D2303
Technical Qualification Report : 1036
* The above mentioned values are typical analytical values obtained on material When tested as per applicable standards under controlled laboratory conditions and should not be construed as specfications of the product.